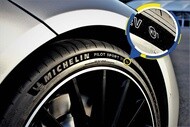 MICHELIN-DEVELOPED MARKED TIRES
Michelin believes that working closely with car manufacturers is essential when it comes to developing high-performance tires. Its engineers use their expertise to select the best technologies and materials as a function of the individual characteristics of each car model, thereby ensuring superior performance and ride comfort, and a truly unique driving experience!
Why Does Michelin Develop Marked Tires?
Every car model has its own specific characteristics. Its weight, power and engine arrangement all have a direct impact on tire choice, so car manufacturers demand tires that take these considerations into account. Michelin's engineers work closely with their colleagues at brands like Mercedes-AMG, Porsche, Tesla or BMW to design tires that meet the specific needs of each make. After an exhaustive testing and fine-tuning process, each tire is marked as a function of the car manufacturer in question and fitted to the model for which it was conceived.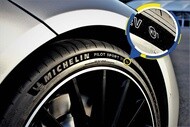 The M01 marking on this tire indicates that it was designed for the Mercedes-AMG brand.
Original Equipment Tire Markings, Marked Tires, Approved Tires, Type-approved Tires, Homologated Tires. What do These Different Terms Mean?
What are OE (original equipment) tires?
OE (original equipment) tires are the tires that are fitted to a car at the time of its manufacture. 
Are marked tires necessarily approved by individual car manufacturers?
Marked tires are the result of a specific demand expressed by individual car manufacturers. They indicate that careful attention has been paid to the tire and model package in order to deliver the level of performance owners expect. For example, 'N'-marked MICHELIN tires are designed especially for Porsches, 'K'-marked tires are designed for Ferraris and 'T'-marked tires are designed for Teslas.
Marked tires designed for different car models are the fruit of research carried out jointly by MICHELIN engineers and their counterparts at the carmaker in question. For instance, 'N'-marked tires are approved by Porsche. Marked tires are therefore approved by the manufacturer in question.
Is there a difference between a tire that has been approved by a car manufacturer and a type-approved tire?
All tires must comply with the legislation of the country or region where they are sold. This is not the same thing as a tire being approved by an individual car manufacturer, which is not a mandatory process.
OE MARKING TABLE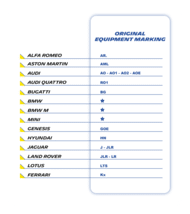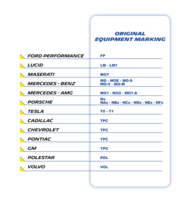 All You Need to Know About Marked Tires
Marked Michelin tires are designed specifically by Michelin engineers in close collaboration with the car manufacturer in question. Marked tires incorporate the DNA of individual brands and models as a function of the performance brief and requirements specified by each manufacturer. The fitment of manufacturer-approved tires ensures an optimal driving experience, from superior handling and ride comfort to reduced noise and even more enjoyment behind the wheel.
Marked tires are a sign that they comply with all of the car manufacturer's requirements. It is important to know that all OE tires are approved by the manufacturers that fit them. When replacing them, it is therefore important to specify the same tire as that approved by the car manufacturer.
Car Manufacturers Choose Michelin Tires
Record-breaking Michelin tires 
As the sole point of contact between the car and the road, tires play a fundamental role in any attempt to establish a new record.
In September 2019, a Bugatti Chiron fitted with MICHELIN Pilot Sport Cup 2 tires, that were a perfect match for its specific characteristics, reached a new speed record of 304.773mph (490.484kph).

Michelin tires have contributed to numerous lap records around the Nürburgring's 12.943-miles Nordschleife loop in Germany:
In August 2020, a Porsche Panamera fitted with MICHELIN Pilot Sport Cup 2 ND0 tires developed specifically for the model lapped the circuit in just 7m 29.81s! [« Executive cars » category]

In November 2020, a MICHELIN Pilot Sport Cup 2 R MO1A-equipped Mercedes-AMG GT Black Series - the German manufacturer's most powerful car - established a new lap record of 6m 48.047s! ["Sports Cars - Series Production Car" category]

Tomorrow's tires
Our partnership with General Motors has led to the development of Uptis, an innovative, sustainable concept tire made from renewable/bio-based materials. This puncture-proof tire requires zero maintenance.

Where can I buy manufacturer-marked tires?
Car manufacturer-approved tires for your model can be purchased from specialist websites and stores.
Need help, or have a question about the tires approved for your model ?
Talk to a Michelin expert. They are perfectly qualified to advise you as a function of your needs, your driver profile and the characteristics of your car.