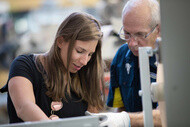 INSTRUCTIONS FOR FITTING AN INNER TUBE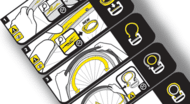 CHECK THE CONDITION OF THE RIM CAREFULLY
A rim in poor condition, cracked or split must be changed as it may allow air to leak out and put the user in danger.

CHECK THE CONDITION OF THE RIM TAPE
A rim tape which is split or cracked must be changed. A tape in poor condition often gives rise to punctures.
To fit it, superimpose the valve and rim holes and keep them aligned.

INSERT THE 1ST BEAD WIRE of the tire in the rim.

INFLATE THE INNER TUBE SLIGHTLY and fit it into the tire, starting at the valve.
In the case of a latex inner tube, don't forget to apply talc so as to make it easier to position in the tire.

REPEAT WITH THE 2ND BEAD, starting once again opposite the valve and positioning the bead in the rim well.
FINISH FITTING at the valve.
Recommendations of use of LATEX Inner Tubes:
Recommendations for use enabling you to take full advantage of the characteristics and high performance of MICHELIN latex inner tubes.
Every time a tire is changed or fitted, we recommend fitting a new latex inner tube.
Each time a tire is changed or fitted with a MICHELIN Latex inner tube, we recommend the use of a new MICHELIN rim tape.
Do not use MICHELIN latex inner tubes with carbon fiber rims.
As the Latex inner tube is a very technical product, MICHELIN advise against repairing it.
Advice from a Pro,
THE MICHELIN MAN
For maximum performance MICHELIN advise you to adjust your inflation pressure after each trip.